Artline Original World Clock Screensaver is a free screensaver.
By visiting Artline World Clock Screensaver, you can see the current time
from three different cities and enjoy illustrations of Japanese seasons
created by Artline.
SYSTEM REQUIREMENTS
[Windows]
OS : Vista/7/8
Flash Player Plugin
[Mac]
OS : OS X 10.4-10.6
Flash Player Plugin
*Environment in which the OS of the above can run smoothly
Install Instructions
Run the installer file to install the screensaver by following the instructions.
List of cities will show at the first time the screensaver comes up.

Select up to 3 cities then press "OK".
The screensaver will start from landscapes of seasons once at least one city is selected.
* You can change or add cities by pressing "select city" in the upper right hand corner of the screen.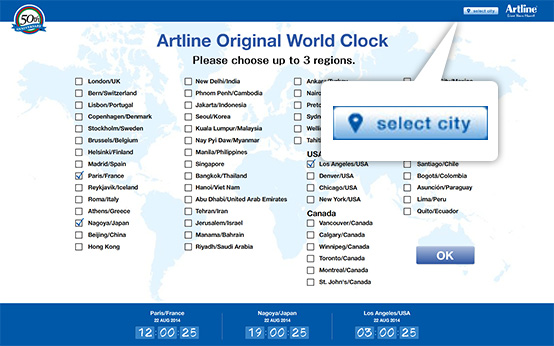 Notes for Artline Original World Clock
*The World Clock Screensaver is synchronized to the computer clock, and will show the time as
it is set on your computer. Please refer to your manual to reset your clock.
*Since the period for "summer time" or daylight saving time varies by region and year,
we have set the following period as summer time on the Artline clock.
Northern hemisphere: The first Sunday in April to the last Sunday in October
Southern hemisphere: The last Sunday in October to the last Sunday in March
We have also set summer time on the Artline clock so that it begins at 2 am on the first day
and ends at 2 am on the last day.
Notes for using the screensaver
Shachihata Inc,. or Artlineworld.com cannot be held responsible for the any damage
and/or loss of data caused by installation/usage of the screensaver.